Podcasting Made Easy (2nd edition)
FIVE STARS

I have read a half dozen books on Podcasting covering startup to monetizing to editing and this is by far the best one I've read. I have gotten more from this book than the other 6 combined! I highly recommend it!

Mr Souza (Amazon)
Order the paperback and Kindle via Amazon
If you want to know all there is to start podcasting for fun and profit then Podcasting Made Easy will answer all your questions.
Now in its 2nd edition, the fully revised, updated and expanded book – 70 pages – is even more helpful to new and seasoned podcasters.
In Podcasting Made Easy Steve Hart takes you through the whole process of recording shows and preparing them for distribution via top podcast streaming services.
Chapters include recording shows, podcast artwork, media law, how to interview people, making money with your podcast, and key technical advice.
Word count: 21,500.
---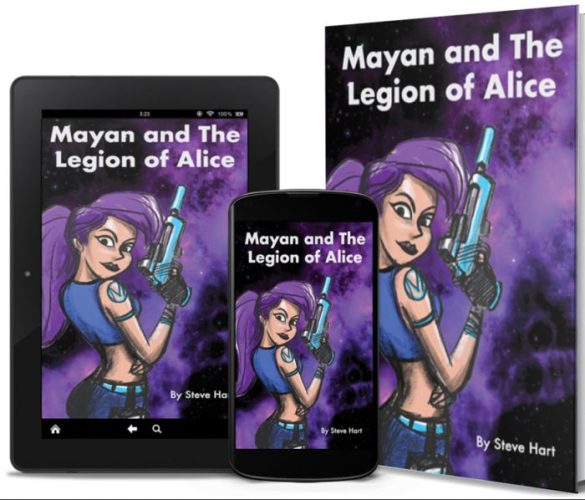 Mayan and The Legion of Alice
Buy the paperback or Kindle at Amazon, or listen to my audio book at Apple.
This space adventure for young teenagers, and anyone who enjoys future fantasy, tells the story of Mayan Levantis.
Mayan's boogying along minding her own business ferrying people and cargo between Earth, the Moon and Mars – but then it all turns to custard.
She finds herself in the middle of a fight and there's no way out – unless she's prepared to let all of humanity down.
In this action adventure story we join pilot Mayan Levantis and discover how a vintage computer could free the people of Earth from the grip of corporations.
Word count: 6,000.
---
The Fall Guy
Get paperback and Kindle at Amazon
The Fall Guy is the fictional story of a scientist who puts his career on the line in his search for a cure for cancer. A tale of Big Pharma, a corrupt judiciary, and a battle for medical freedom.
Read how Harold is lured into a trap of epic proportions and how his demise spurns a new generation of researchers. Harold's going down, but somebody else will fall further.
An intriguing short story that may just have a hint of truth. Read this gripping tale and share it with your friends.
Word count: 6,000.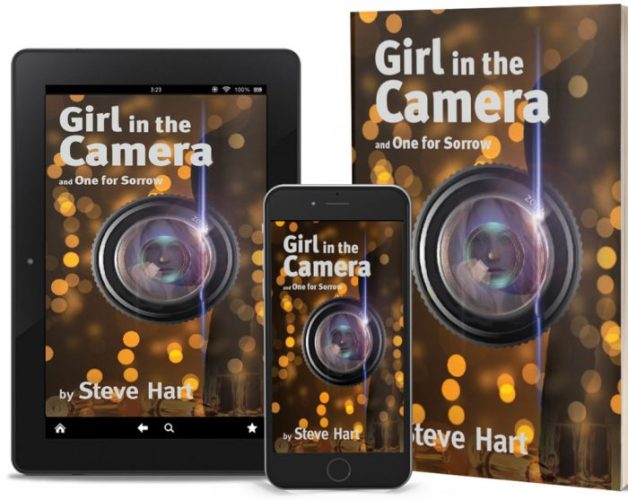 Girl in the Camera
Buy the paperback and Kindle at Amazon
This features two tales from Steve Hart that will push your imagination to new limits.
In Girl in the Camera, a down-on-his-luck news photographer goes one step too far to find out who owned a second-hand camera he bought.
And in One for Sorrow, an assassin discovers that time is against her when it comes to changing her plans…
Word count: 7,900.
Need something special to write down your ideas and notes?
Get the On Air, Bright Ideas or Dream Keeper journals – 120 lined pages for all your random ideas and thoughts.